• Compact and lightweight design •
• Uniform beam of light •
• Smooth power level adjustment wheel + push button •
• Fully adjustable beam (width and position along the axis) •
• Direct attachment to Luna Optics products, as well as to Picatinny Rail •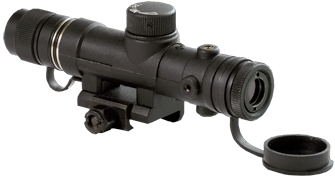 LUNA OPTICS is proud to introduce the new laser IR illuminator! The model LN-ELIR is now built from new thermoplastic materials, which are lighter and stronger than aluminum versions. The unit employs new control switch system allowing smooth brightness adjustment and features innovations such as dual-step control to prevent the laser from being accidentally turned on, protective cover and a light indicator allowing the user to see when the laser is working.

The illuminator is compatible with any Gen-1, Gen-2(2+) and Gen-3 night vision unit and provides an adjustable uniform beam of infrared light, useful for situations where the amount of ambient light is not sufficient to see clearly.

Three versions are available: LN-ELIR1 with the slide mounting bracket for attachment to Luna Optics binoculars and goggles, LN-ELIR2 with the screw mounting bracket for Luna Optics riflescopes and tactical monoculars and the universal LN-ELIR3 version featuring Picatinny mounting bracket for direct attachment to the rail.



Click on any of the online retailer links below
to purchase our LN-ELIR-1 accessory:

3 Versions Available:
Model LN-ELIR-1 – Slide Bracket
(Fits to models)*

LN-PB3M
LN-PB5M
LN-PB7M
LN-EBG1
LN-EBG1-PRO




Model LN-ELIR-2 – Screw Bracket


(Fits to models)*

LN-EM1-MS

Model LN-ELIR-3 – Picatinny Rail Bracket
Fits directly to the Picatinny Rail and can be used in conjunction with any Gen-1, Gen-2 (2+) and Gen-3 device.*


* To ensure compatibility, please let us know which model you plan to fit the illuminator to at the time of order.
TECHNICAL SPECIFICATIONS:
• Wavelength: 785nm •
• Max Power Output: 0.5mW•
• Field of Illumination: 0.1 – 5 degree•
• Max. Range of View: 150m (489ft) •
• Power: 1x3V Lithium CR123 type •
• Operating Time: 6 hours •
• Dimensions: 122mm x24mm x31mm
(4.8"x0.9"x1.2") •
• Weight: 75g (2.6oz) •




Click on any of the online retailer links below
to purchase our LN-ELIR-2 accessory:

Click on any of the online retailer links below
to purchase our LN-ELIR-3 accessory: